LATEST NEWS
Speed Demons 1.2.2 Now Available
February 20, 2020
Speed Demons is now at version 1.2.2 on iOS and tvOS (with the Mac version coming soon) on Apple Arcade. Version 1.2.1 released a couple weeks back, and 1.2.2 submitted shortly after that. 1.2.2 fixed a couple minor issues and made the tutorial a bit more robust in a number of minor ways, and it just released last night.
After updating the tutorial, I decided it was time to reset the ratings on the AppStore. The game has had somewhat mixed reviews for all versions of the game, with many players loving the game, but some hating it. The controls are the most divisive issue by far, with some complaints about there not being enough of an introduction to the controls as well. Hopefully the tweaks in 1.2.2 will help new players and get the game back into the 4+ star rating territory (it had been averaging 3.9, which is quite low compared to most of my other games).
Rewinding a bit more, I wanted to talk about 1.2 in general a bit more. The game now feels as complete as I ever intended it to be, and the overall play time exceeds 20 hours by a significant margin. 1.2 adds a lot of new cars (5 of them have a top speed greater than 200 MPH), a monster truck, some new modes and modifiers, and a lot of new events. It's a very long game, and any future updates will need to stretch the game in new directions if it's to add anything of value. I have some ideas for the next big update (later in 2020), but I'm not going to commit to anything yet.
The new trailer has been out for a couple weeks, but here it is in case you missed it:
With Speed Demons work on hold for a while, I've been working on a new prototype project. It uses top-down low-poly art, lots of particles, and relies a lot on physics, but is otherwise quite a bit different from Speed Demons. I can't really say anything more about it, but I'm aiming to hit my first big milestone at the end of February. Depending on how things go in March, I'll either start discussing it more in public, or keep it quiet for a while. Sometimes working on a new project can be a bit of a grind while you build up the basics and flail around for the key elements, but other times it's just plain fun to work with new mechanics and controls. It's been a bit of both so far, but now I need to focus and just get to the next milestone and prove that the prototype is more than just a tech demo.
---
Speed Demons 1.2.1 Coming Soon
January 21, 2020
Version 1.2.1 of Speed Demons has just been submitted for Apple Arcade. It might take a couple tries to get thru submission, though it's been well-tested and I don't expect it to be more than a few weeks before it's out. This update has taken a lot longer than I expected for a few reasons. The three main ones are:
1) The update is bigger than I expected, with 150+ new events and 13 new vehicles (I originally expected around 100 and 10 for those numbers). I also modified some existing events to highlight the new modifiers. The original game shipped with 205 (or so) events, and the first update added 40 new ones, but now the game has 401 events.
2) I changed how AI steers, and that took longer to get right than I expected, and it led to me needing to re-test/re-balance the entire game. I had to test all the new/modified events anyway, but I had to 3-star everything, which was harder than I expected, and I slightly re-balanced a good number of events that had no other changes.
3) My motivation has been lacking in consistency. At times I've been productive over the past months, but other days I've gotten very little done. Perhaps I took on too much with this update, but none of the tasks were especially painful or tedious. I believe I'm past the worst of the recent laziness, but I'm not certain of that.
Regardless, here's a screenshot from the progress menu taken on my iPad, showing the 2,000+ miles I've driven over the past few weeks: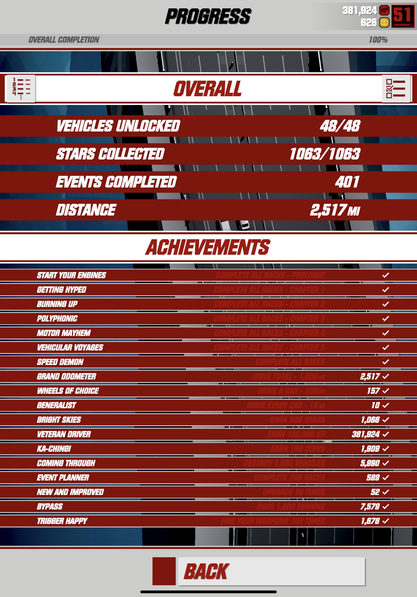 I'll be working on a new trailer for the update starting today, and will release that when the update is out. There's a lot of cool stuff in the update, particularly if you like fast cars, but I'd rather show than tell, so I'll save further details and elaboration of the update highlights until it's available.
After the trailer, I'm going to focus on figuring out my next game. I have a number of ideas for what that might be, but it may take a little while to sort it out.
As for the future Speed Demons, version 1.3 won't be released this Spring like I originally planned. I have plans for additional vehicles and features, but I need a break from the game, and next time I won't be changing anything that affects the whole game like the AI steering did this time. At this point the game is so massive that it doesn't need more content, but there are a few more vehicles I'd like to add, and right now I think a custom mode (where you get to create and save custom events and settings) is the next logical step. I might also revise the UI a bit more, but after playing through the whole game, it doesn't feel as important as it did last fall.
A little time away from Speed Demons will help me gain a little perspective. Right now I'm looking at it as a player who has finished everything there is to do, but I also need to look at it with fresh eyes as well. Either way, the game is in a really good place as of 1.2.1, so I'll write down all my current ideas and reevaluate them later this year.
---
Speed Demons 1.1.1 Now Available!
November 8, 2019
The first big update of Speed Demons is now out on Apple Arcade. Version 1.1.1 adds a bunch of new content, Daily Quests, landscape mode for iPad, and a few other minor fixes. It also breaks the non-standard camera angles on iPhone X/11, unfortunately. That will be fixed in 1.1.2, which was just submitted this morning.
There are 40 new events in Chapter 6, with 6 new vehicles introduced, 2 of them being large trucks, 2 are everyday vehicles (minivan and compact SUV), and 2 high-speed cars. There are also 2 new environments. The new vehicles are really the best part of this chapter, with the Apex, Maverick, and Vault being the 3 that really stand out to me.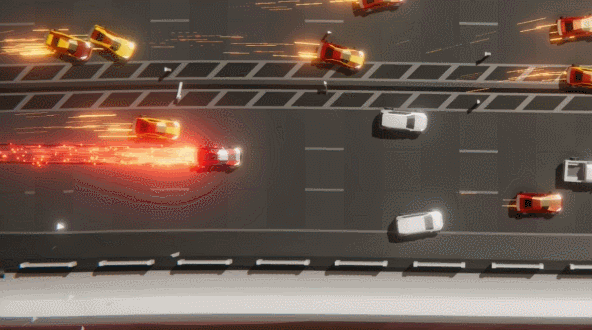 As for other features, landscape mode is now available on iPad. You have to go into the Graphics settings (in the Options menu) to change the orientation. And the Daily Quests are an extra way to add a bit of variety and motivation to the game. Initially you'll start with 3 quests, and you'll get new ones every day. They are all pretty simple to achieve, and each gives a bit of XP along with an extra coin. So now it's theoretically possible to upgrade all the cars to their maximum level, but it would still take a while to accumulate enough coins.
I've been working on various additional features for the next update after that. I'm pretty sure I'll call it version 1.5, as it has so many new features and such that it's more than just another update. There will be two new Chapters (7 and 8, with 13 new vehicles), two new game modes, new major modifiers, AI and visual tweaks, and more. I expect there to be over 350 total events with version 1.5 (there are 246 in 1.1, I believe), with most existing vehicles also receiving new events as well. I believe 5 of the cars will be faster than the current fastest car (Voyager). Hopefully it'll be out in December, but I don't want to make any promises since so much is being added. I'll likely create a new trailer when that is done.
Beyond that, I'm currently planning on one more major update for early 2020. In addition to new content (Chapters 9 and 10) and other modes/tweaks, I'll probably revise the event list UI in that update. There are just too many events, and scrolling through a mega list is becoming cumbersome. I have a few vague ideas, but I'm definitely open to suggestions on how to best organize the chapters and events in a more readable and usable way.
Hope you guys enjoy version 1.1.1, and definitely let me know if you have any questions, suggestions, or other issues.
[Apologies for not continuing the YouTube series, but there was a pretty low interest in them, so I'd rather keep focusing my time where it makes the most impact.]
---
DOUBLE LAUNCH DAY!
Speed Demons on Apple Arcade!
Inferno 2 on PS4 and Switch!
Septemeber 19, 2019
It's safe to say that today is the biggest day for Radiangames, ever. September 19th, 2019 is history in so many ways that I need to list them all out:
* Speed Demons is my first launch-day release for a new platform (Apple Arcade)!
* Speed Demons is my biggest solo game ever, and I'm not done working on it!
* Inferno 2 is my first Radiangames release on PS4 and Switch! (XB1 is coming soon!)
* Inferno 2 is my first Nintendo release of any kind (solo or otherwise)!
* Inferno 2 on consoles is my first co-op game since 2011!
* And both of these are launching on THE SAME DAY!
That's a lot of freakin' exclamation points!!! I can't believe this is all happening on the same day, but it somehow is. I didn't plan this in any way, so I'm as surprised by the dates working out this way as anyone else. Launching two games on the same day is not something I'd recommend to anyone, especially a solo developer, as I'm so stressed that I'm pretty much numb today.
Plus it's probably the biggest launch day in mobile games history (not just Apple Arcade, but multiple big Switch games are out today). Normally, getting any attention is difficult and requires some luck, but today it's even more difficult. Somehow, Speed Demons has
been
very
lucky
.
Before I get ahead of myself, the important links:
Speed Demons on Apple Arcade
- requires iOS 13 for iPhone (or iOS 13.1 beta for iPad)
Inferno 2 on Switch
Inferno 2 on Playstation 4
(XB1 version was delayed a couple weeks, stay tuned!)
I also want to point to the following two Discord servers:
2Awesome Studio's Discord Server
(for #inferno2 discussion)

Speed Demons Discord Server
Working on Speed Demons over the past 5+ months has been all-consuming of my life. I worked on it a bunch towards the end of 2018 as well. And though that doesn't add up to as many days worked as Powerpuff Girls or Bombcats, the number of hours worked on Speed Demons is definitely higher. I've had to become as efficient as I've ever been on any game in terms of producing content. And I'm not even close to being done working on the game, though I'm hopefully done working 12+ hour days. I anticipate by next summer, the amount of game content (cars/environments/events) in Speed Demons will be more than doubled.
I'm also starting a new series of videos on my YouTube channel about the development of Speed Demons:
Being part of Apple Arcade is both exhilirating and terrifying. The number of super-high-quality games is off the charts. Multiple people have said this is the best launch line-up for any new platform. I mean, technically, it's a service, but either way, Speed Demons is in the company of some amazing games, and I feel very fortunate to be part of the Apple Arcade launch.
I also feel fortunate about Inferno 2's launch. The amount of work I've had to do on the ports has been minimal. I worked on adding co-op back in the spring of 2018, but since then David and Alejandro at 2Awesome Studio have handled almost everything else. It's the "easiest" game I've worked on even if it did take longer than initially expected.
I have no idea what to expect with the console version of the game, but hope it's at least moderately successful. Super Crossfighter really deserves a console port as well, so Inferno 2 might make that a no-brainer or a non-starter based on what happens with it.
---
Speed Demons Coming Soon to Apple Arcade!
Septemeber 16, 2019
This is a big week for Radiangames (see the previous news item below). And it just got a LOT bigger: My biggest and most ambitious solo game, Speed Demons, is coming soon to Apple Arcade! I don't know the exact launch day of the game yet, though Apple Arcade launches this Thursday, September 19th. Here's an all-new trailer for the game:
It's very exciting being part of Apple Arcade, and I can't wait for everyone to try the game. I'll share more details about the game and everything that went into it (a lot!) once it's available to download.
---
Inferno 2 Coming to Console, with CO-OP!
Septemeber 3, 2019
I'm thrilled to let everyone know that thanks to the hard work of
2Awesome Studio
, Inferno 2 will be coming to consoles (Nintendo Switch, Playstation 4, and Xbox One) on September 19th! Not only is the game on consoles for the first time, but it also will have brand-new 2-player support! Those are the 2 most common requests for Inferno 2, and now they're both happening AT THE SAME TIME!
Inferno 2 is the perfect title for Radiangames' first console release since 2011. I'm really excited to play the game as well, as David and Alejandro have put in nearly all the work on this one, and I don't have any development consoles at the moment. I helped out by putting co-op into the game and fixing a couple bugs, but that was a while ago, and they've handled pretty much everything else since then.
One more piece of good news: The game will be the same price as the Steam version, which means it's only $4.99, so there's no reason not to pick it up on every console you own. Now I get to link to Inferno 2 on Switch, which is something that brings me a huge amount of joy:
Inferno 2 on Switch
(The Playstation 4 and Xbox One pages are not up yet, but hopefully will be soon)
Eventually I'll try to find some time to bring co-op to the Steam version of the game, but I'm still busy working on another project. More details about the other project will probably be coming soon.
(It's not Inferno 3, though I still hope to work on that someday as well.)
---
Slydris 2 News
May 20, 2019
Just wanted to give a quick update about what's happening with Radiangames. Even though I've been quiet, there's been a lot of activity going on. The big news for today:
I've been developing a new "version" of Slydris 2 for a while now. As I mentioned in my
GDC
talk, getting help with free games is good idea, and I've been doing exaclty that in working with Tripledot Studios (a cool UK-based free games developer). I've learned a lot about what's important to a hopefully-successful free-with-ads game, and everyone at TDS has been great to work with. We've been working on the game since early this year, and the game (Blocks) is
out now on iOS
. That's obviously not the most exciting name, but it is very friendly to search, and it might be better to not have any association with Tetris (so players don't have certain expectations about the controls/etc).
The art style has changed a ton, and the sounds are completely new, but the game still feels great to play. And it really is a better experience in many ways. The tutorial is 10x better, the ad system is much simpler and non-intrusive, and the additions of hints and undos really add a lot to the game. Aside from the undos and hints, the biggest gameplay tweak was changing the dropping blocks to be immoveable. This will reduce player confusion immensely, and it doesn't hurt the game to have your focus always on the stack instead of worrying about what's dropping from above so much.
There's one other important aspect to today's news:
Slydris 2
will leaving the Apple AppStore (it's already gone from Google Play) tomorrow. Blocks is just a better game (for new and non-paying players especially), and taking down Slydris 2 gives Blocks a chance to get the attention it deserves. You can still play Slydris 2 as is if you have it already or download it in the next day, and it may return in some form far in the future, but for now, Blocks is the way to play.
There are other things happening with Radiangames, but nothing I can talk about yet. I'm not sure what or when the next announcement will be, but there should be some big news later this summer.
---
GDC Notes Now Available
April 21, 2019
It's been a month, so I apologize for the lateness of this, but I now have the GDC slides available
here
. The slides are pretty image-heavy and substance-light, so you should definitely take a look at the notes while looking at the slides. I wrote the notes as a script this time, and I think that worked better than the other style that is usually recommended (where you write brief snippets to remind you of what you want to say). Writing notes in script form isn't for everyone, but it's worth trying if the snippets method doesn't work for you. Of the 4 GDC talks I've given, I felt this one went the best, but that's not saying much since the 2nd and 3rd talks weren't particularly good (or well-reviewed).
I don't know when or if GDC will post the video of the talk, but I'll be sure to add another entry about it.
---
New Website Live!
April 20, 2019
Radiangames has a new
website
. Sorry for the delay in getting it back on-line, but I spent too long looking at various things I could use, and decided a simple DIY site was the way to go. I don't want anything too fancy, and I finally decided it wasn't too much hassle to just figure out HTML and CSS. I've done HTML websites before, but it's been a while, as well as customizing my old website with a bit of CSS. Now I'm just googling my way to getting a website up and running.
I don't think a blog is as important as it was when I started Radiangames, so I'm going to scale back on the images and words a bit in the future. This new version has no comments or things like that, but the frequency of comments had fallen a lot since the early days, and there are plenty of ways to interact with me if you want to get in touch. I still intend to post every week or two as I had been before, as these posts still help me sort out my thoughts, and they are a nice record for what I've been up to.
---